Domestic roller shutters
Roller shutters in a residential environment are ideally as unobtrusive as possible. Below are the best options if you need a security shutter for a domestic application.
Compact and lightweight home security shutters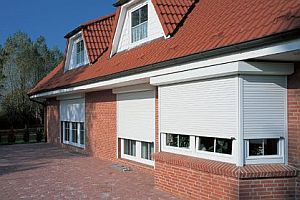 K25 shutters are lightweight and roll up into a small box. This makes them the best choice for securing your home.
Two levels of security
The K-lite and K25 roller shutter are the choice for domestic properties.
The K-Lite consists of a lightweight roll-formed section wrapped around a foam inner core. It's a cheaper option, good for low risk applications.
The K25 is made from a heavier extruded section and is the choice for medium to high risk applications. K25 shutters are not as cheap as the K-lite, but still very affordable.
Electric or manual window shutters
We usually install external window shutters complete with an electric motor which means you can operate the shutter from inside. However, manual operation is also an option if you don't want an electrically operated shutter or if an electrical connection is not feasible.
Collapsible gates for increased security
Another type of residential security shutter we regularly install is the Barricade collapsible gate. This strong shutter folds away to the side and offers a high level of protection when installed behind glass.
A collapsible gate is very strong and completely folds away when not in use. If you need the best possible security grille for your home, you can also choose an insurance rated option. This security grille has been tested independently by the LPCB to Security Rating 1 and has an insurance preferred specification.
Overview domestic/residential security shutters

(click headings to sort)

Product
Price
Security
Visibility
Short description
Barricade collapsible Gate
£

high
50%
Horizontally folding.
Highly secure, good visibility.
More »
Facade Transparent
£££

high
80%
Transparent polycarbonate.
Excellent security and visibility.
More »
K25 Domestic
£

standard
0%
Lightweight, unobtrusive, quiet, low maintenance, small, complete privacy. More »
K77 / K55 Insulated
££

standard
0%
Double skinned insulated aluminium.
Lightweight, quiet, low headroom, versatile.
More »